Duration
A class zyBook's start date is set by your instructor, often a week or so before class starts. The end date is typically two weeks after the class ends. Subscriptions for independent learners last 6 months. You can view the end date on the "My subscription" panel of your zyBook's home page.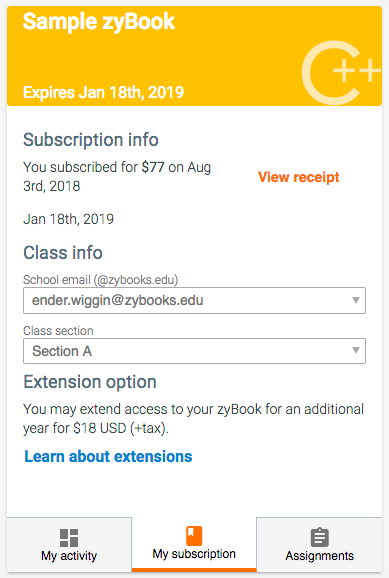 Extensions
The "My subscription" panel may have an option to extend -- $18/year for most titles.
Extensions are for personal use only, and not for use in any class. Instructors of other class offerings cannot see your activity, and we will not transfer such activity.
If you are retaking a class, contact support@zybooks.com for discount options.
If you are taking a different class using a zyBook with the same subject (like Java), subscribe directly to that class' zyBook (a discount may be automatically applied).
Extensions are for the base zyBook content. zyLabs (items labeled "Lab Activity") are not included in the price and may be hidden at any time.
If you extend but later take a class using the same subject, you can optionally email support@zybooks.com to be considered for an extension refund. (Otherwise, extensions generally are not refundable).
If you extend an outdated zyBook, you may be eligible to be upgraded to a non-class zyBook. Note that in doing so, all of your activity data will be cleared. Also, non-class zyBooks do not contain labs. Email support@zybooks.com for more details.
Saving and printing
As a professor-formed company, we want students to refer back to their learning material. So, for most zyBooks, students can print each chapter* (commonly to PDF). A "Print chapter" button appears at the end of each chapter in the table of contents. Obviously, the PDF will not be interactive, but can serve as a handy reference.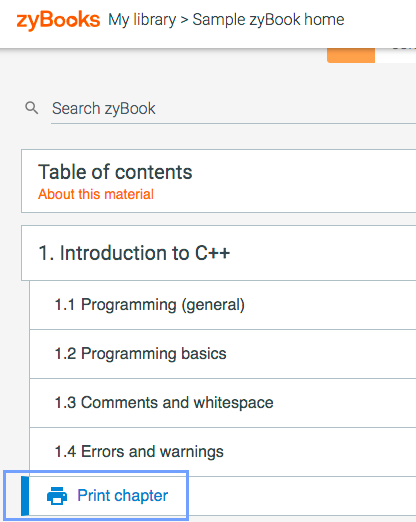 *Please note that some titles may not be available to be printed, due to restrictions from that title's original publisher.
**Please note that most zyBook's chapters are very large and may take a while to print.