Students using a same-content zyBook in a second class may receive a discount of up to 50% off. Add-ons such as zyLabs or extra material from other subjects may add to the after-discount price.
All the following conditions must be met for a discount:
1. The second zyBook must cover the same content as the first zyBook. Ex: If you subscribed to a Python zyBook for CS 1 and then take a second class like CS 2 using a different zyBook using Python content, the discount would apply. But a second class using a Discrete Math zyBook would not.
2. This second zyBook must be purchased within one year of the end date of the first zyBook.
3. The first and second zyBooks must both be directly paid for at zybooks.com. We can not offer discounts to students who purchase access keys at bookstores.
No need to contact us; discounts appear automatically when you open the subscribe page on the second zyBook.
Here is an example of what a discounted price looks like.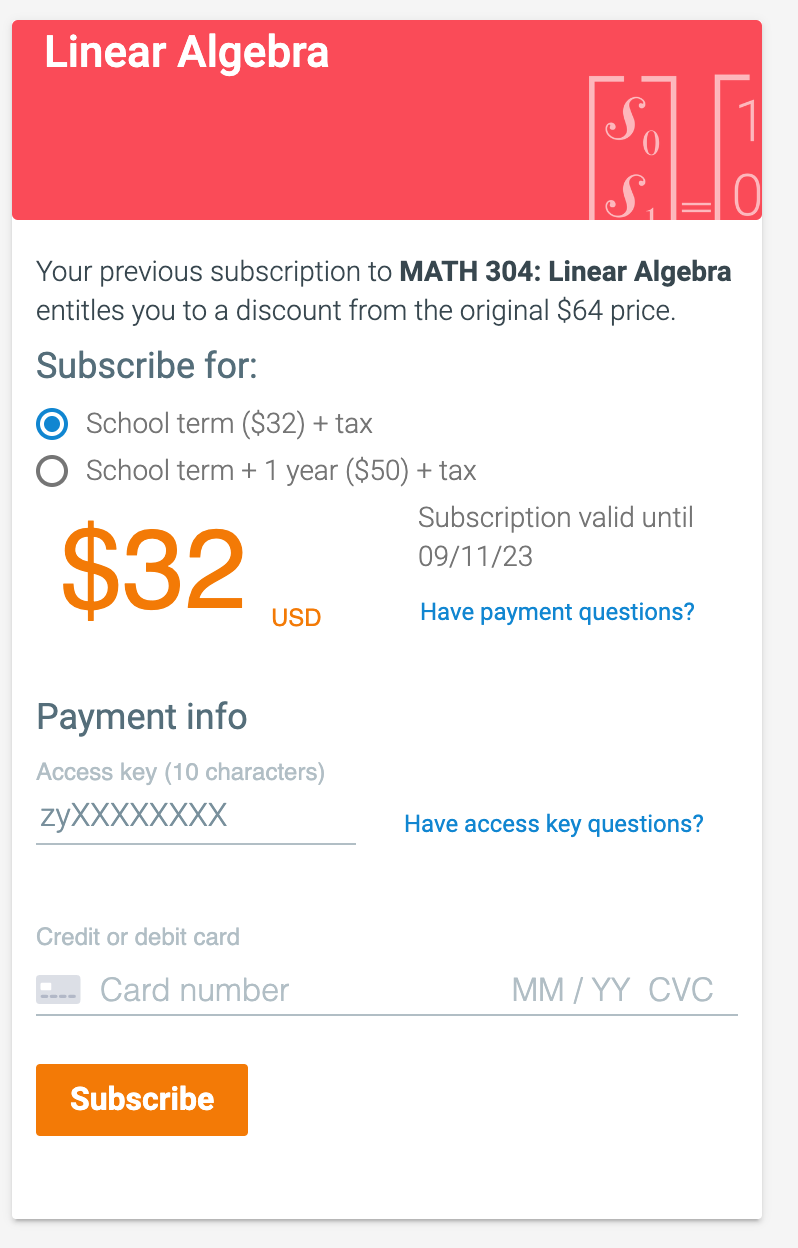 Instructors: If teaching a two-course sequence and wondering about one price to cover both, note the above approach is already designed for that purpose. The approach elegantly handles: (1) the inevitable cases of some students not taking the second course or enrolling straight into the second course, (2) retakes, and (3) changing either course's zyBook configuration or content.
Students: If you are retaking a class (due to drop, fail, etc.), you might be eligible for our opt-in free retake promotion. Contact support@zybooks.com with questions.
zyBooks are highly-interactive products whose content and platform are much harder and costlier to produce and maintain than traditional textbooks. Our professor-founders emphasize student success and learning, with pricing being made as low as possible but enough to sustain the sophisticated product and the many professionals who contribute to the product.