Instructors sometimes want to give students credit for late work. Several option exist.
For instructors using "Reporting"
Instructors using the "Reporting" feature to download student scores (rather than creating "assignments" in zyBooks) can simply run multiple reports -- one with the normal due date, and one with a late due date. Upon putting the resulting columns into a single spreadsheet, instructors can define another column using any formula they desire. This is a widely used approach by instructors who use reporting, and provides tremendous flexibility.
For instructors using "Assignments"
For instructors using "Assignments", the assignment feature currently supports one due date.
Option 1
One possible way to accept work late is to temporarily change an assignment due date to a late due date, download a report, then change the due date back. This would generate a report reflecting the "late" due date. You can then do calculations on this report to account for a late policy.
To change the due date of an assignment, start by navigating to the "Assignments" tab.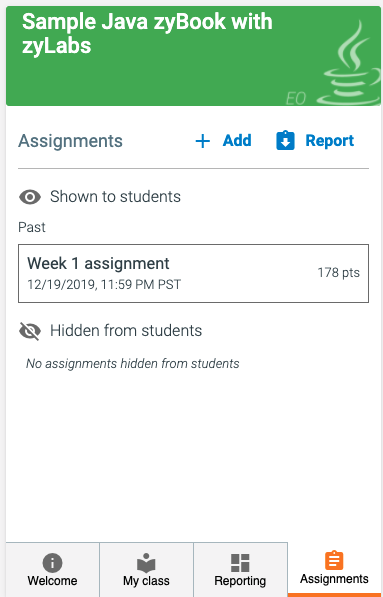 Next, click on an assignment of your choice to expand the assignment. At the bottom of the assignment, click the blue "Edit" button.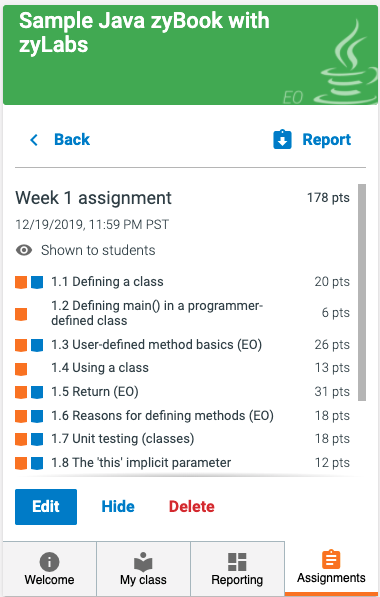 From there, you can make changes to the due date using the dropdown picker.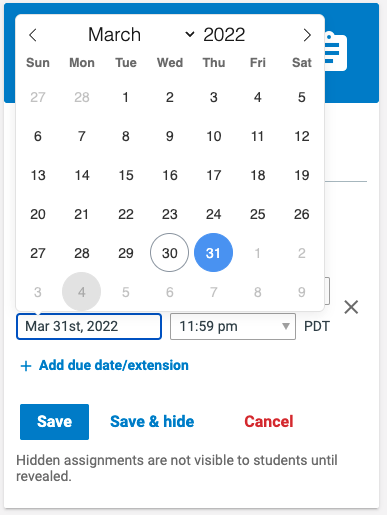 After saving your changes, you can download a new report.
Note that this method could confuse students.
Also, note that the date picker does not allow dates in the past to be selected. You can only select today's date or a date in the future.
If you prefer not to touch the due dates, the second option is to download a report from the reporting tab rather than the assignments tab. Note that the reporting tab does not have any reference to the assignments, so you will need to manually select each content section from the assignment on this tab.
Please review our help article on how to download a report from the reporting tab. Also please be aware that downloading a report from this tab will download scores for all of the activities in the sections that you choose. It does not have the granularity of participation only or challenge only on a per section level that the Assignments reporting feature has.
Why don't assignments have an explicit late due date?
This feature has been requested at times, and we are considering it. However, we strongly favor simplicity, and are hoping we can avoid adding yet another parameter to our tool, so instructors have a simple experience. zyBooks usage tends to be quite different than traditional assignments. Instructors can configure a zyBook so each chapter is one week, and thus each week can have the same deadlines -- students get into a rhythm. Furthermore, zyBooks can have large numbers of small auto-graded activities, so instructors can provide many more assignments (without overworking students) such that missing one deadline has less impact. And, with so many activities provided to instructors off-the-shelf, assignments can be provided well ahead of due dates, so students can start early. Plus, instructors can easily see how a class is doing, and encourage/remind students to get started. As a result of these aspects, a well-organized class using zyBooks has far fewer deadlines being missed. zyBooks' co-founder, Prof. Frank Vahid at Univ. of California, Riverside, notes that he has 30 due dates in his 10-week quarter, and gets no more than 1-2 late-work requests per quarter in his class of about 100 students. And when he denies those, students are generally fine. We encourage instructors to design classes that result in few late requests. With that said, we realize late requests sometimes are necessary, and thus hopefully the above options will work for instructors.