When a student is asked to pay again, this could mean one of two things.
If that happens, don't worry! These are both simple to fix.
Case 1. Subscribed to the wrong zyBook.
To determine if you are subscribed to the wrong zyBook, double check the URL on the zyBook you paid for and the zyBook asking you to pay again.
In the two screenshots below,
Ayesha is subscribed to the zyBook with the zyBook code ZYUCS101BakshiFall2022
Ayesha is not subscribed to the zyBook with the zyBook code ZYUCS101VahidFall2022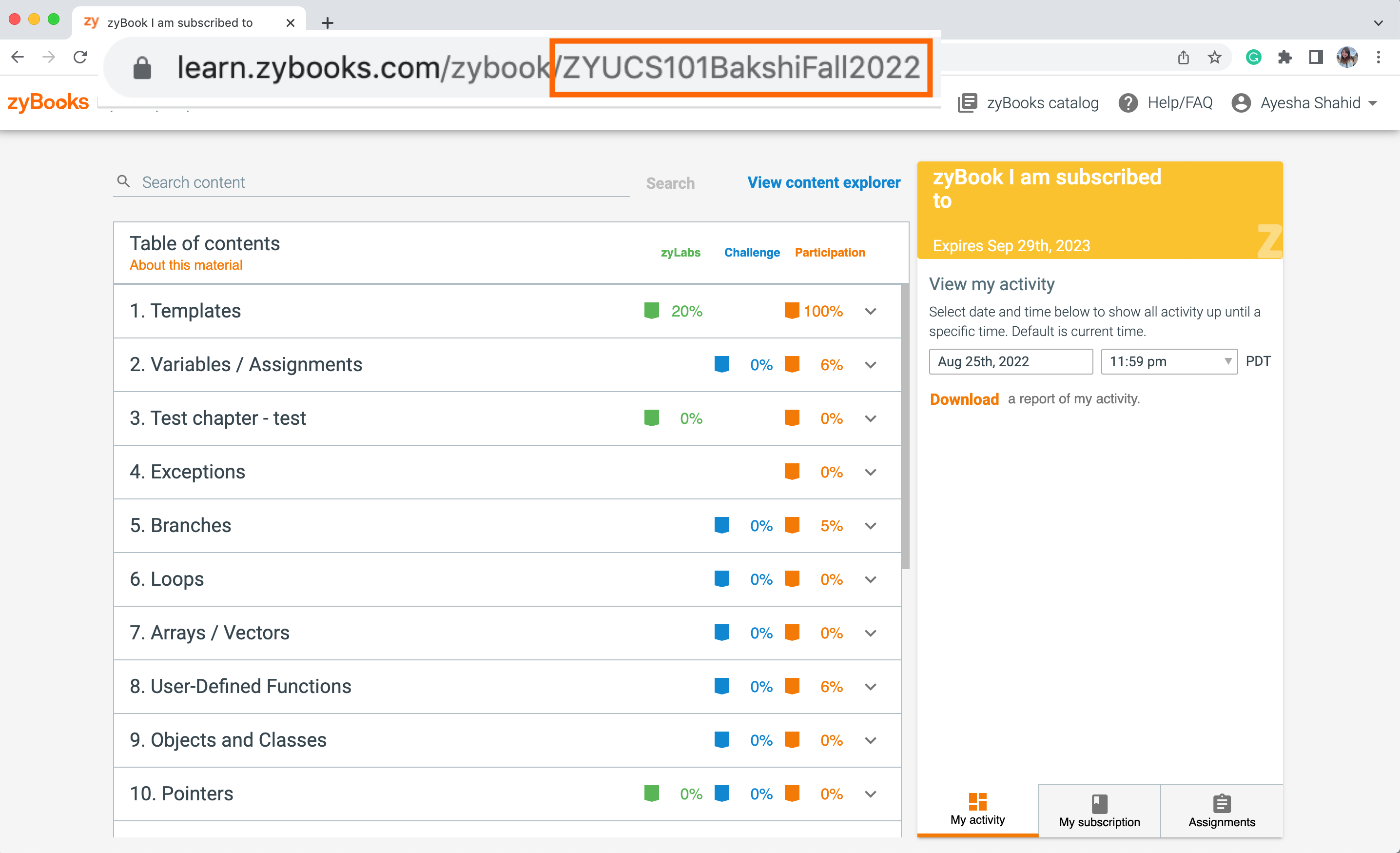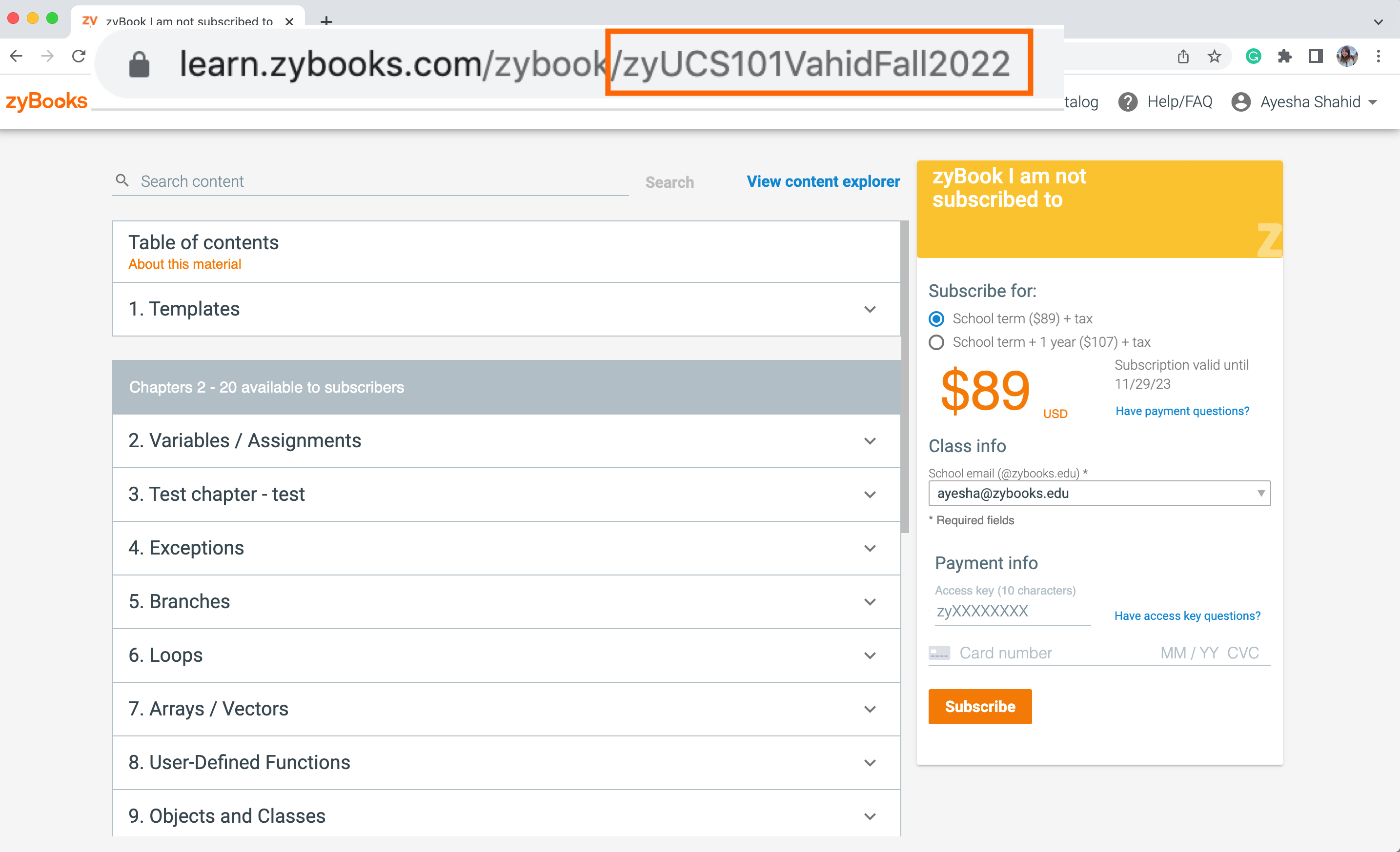 If you suspect you might be in the wrong zyBook, please email support@zybooks.com to let them know that you you are subscribed to the wrong zyBook and would like to be moved.
If possible, it would help us to know the URL of the zyBook that is asking you to pay again.
If you are not sure if you are in the wrong book or not, please let us know the name and email address of your instructor and we can check that for you.
Case 2. Multiple zyBook accounts
One cause of two accounts is a student using variations of their school email (pat@uuu.edu and pat@student.uuu.edu), or mistyping their email (patt@uuu.edu, or pat@uuu.com).
Students sometimes initially use a gmail or yahoo email, then later register their university email.
Some schools have students sign directly in to zyBooks from their learning management system (LMS) like Canvas, Blackboard, etc., which automatically creates an account using the student's university email. Then sometimes the LMS changes the email that is used, like pat@uuu.edu and later pat@student.uuu.edu, for seemingly-random reasons.
Note that when a student clicks a link in LTI, our platform will do the following: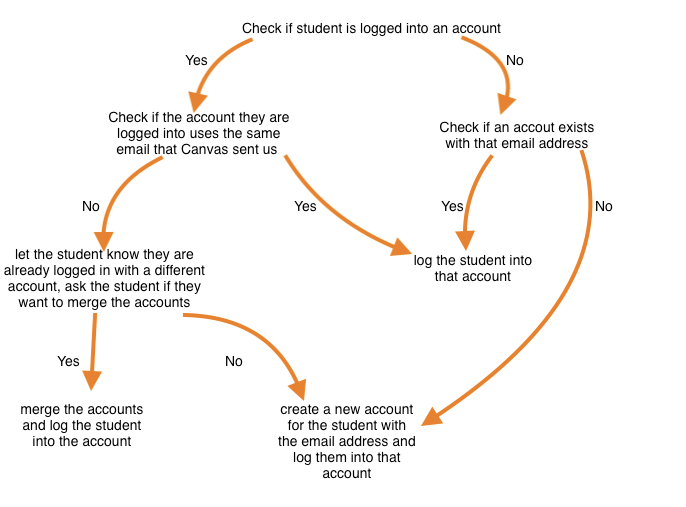 You can always check which account you are logged into by clicking your name in the upper right-hand corner and selecting "My profile". Note that in cases where your school's website creates an account for you, your name might be "LTI User" or "zyBooks User".
If you've already subscribed but are being asked to pay again, try other emails you may have used. If you can't remember, contact support@zybooks.com.
If you have multiple accounts in zyBooks, feel free to ask support@zybooks.com to merge your accounts into a single one.
Case 3. Unentered access key
Your bookstore should have given you an access key that is 10 characters long and starts with "zy". If you have not received an access key that looks like that, please reach out to your bookstore for more details.
On the "Subscribe" page for your zyBook, enter your access key.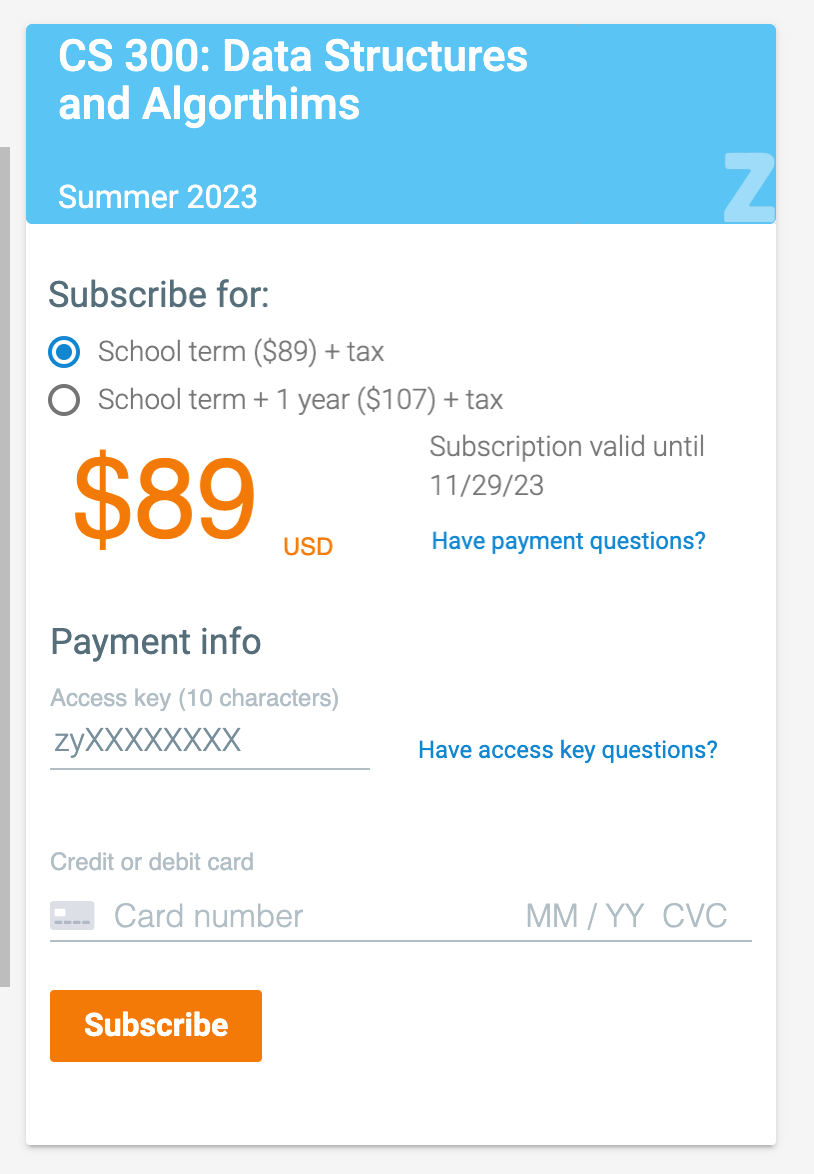 Once you enter the key, the price will drop to 0 and the credit card fields will disappear.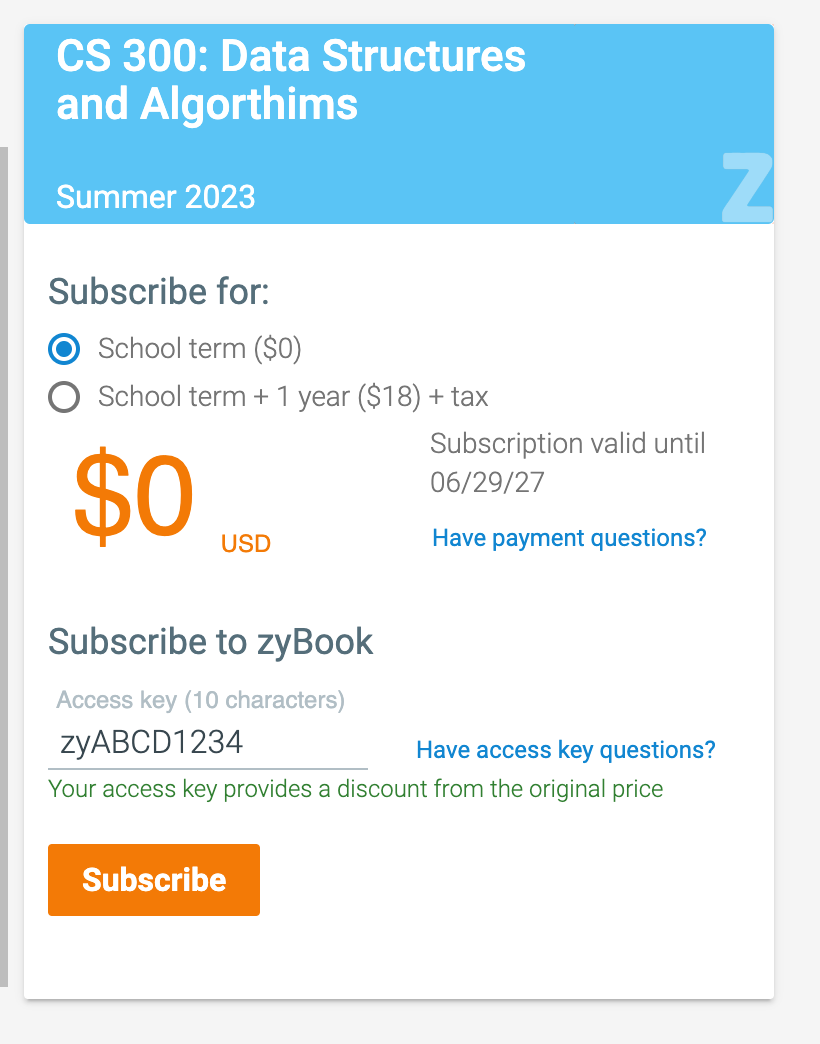 Click "Subscribe" to unlock your full access.
If no access key field exists, your zyBook may not support access keys. If you bought an access key but your zyBook does not support access keys, you may have bought an access key for a different zyBook. Contact support@zybooks.com and let them know your access key and your class' zyBook code.
Another possibility could be that you may have purchased a subscription for the wrong zyBook. If this is the case, please let our team know and we can transfer you to the correct zyBook.