In this article:
Questions? Ask support@zybooks.com.
Cost
A zyBook's price appears on a zyBook's home page when unsubscribed. This article explains how to get to a zyBook's home page. Students in a class using zyBooks pay a discounted price, typically $64 - $90 depending on what content is included (many instructors combine content, use add-ons, etc.). For non-students, most zyBooks have a regular price of about $195. Subscriptions by non-students or by students not in a zyBooks class are by approval.
zyBooks are highly-interactive products whose content and platform are harder to produce and maintain than textbooks. Our professor-founders emphasize student success and learning, with pricing as low as possible but enough to sustain the sophisticated products and the professionals who contribute to them.
Using financial aid
zyBooks are steeply discounted for students, so most financial aid students subscribe at zybooks.com using a credit card, then "reimburse themselves" when their aid is disbursed several weeks into the term.
Some bookstores sell zyBooks prepaid access keys, which students can buy with their school's financial aid account, so you might check with your bookstore. Because most financial aid students pay directly at zybooks.com -- which may have a lower price, enable future discounts, and save time -- most schools using zyBooks do not set up prepaid access keys. See also: Info about prepaid access keys and Info for bookstore reps.
For financial aid cases where students can't pay initially with a credit card, then upon request, we may defer payment for up to 30 days. Click on "Have payment questions?" on the subscription page (shown below) to request a deferral. A deferral yields a fully-functioning temporary subscription. Students can complete payment during the deferral period to convert to a regular subscription.
Clicking that button yields a popup with common questions: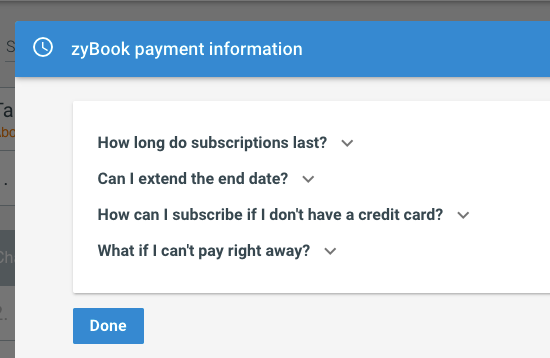 To request a deferral, expand the last question and fill out the short form there. The temporary subscription will be active automatically so you can get started right away.
By the way, Chapter 1 is free, so you can immediately start reading and doing activities even before paying or requesting deferment. When in Chapter 1 but unsubscribed, your activity will be recorded, but you will not appear on your instructor's roster until after you have a subscription (regular or temporary), after which your name and recorded activity will immediately appear in your instructor's roster.
Refunds
zyBooks are in general non-refundable. But for zyBooks used in a class, if you subscribed but then end up not in the class (drop, waitlisted but don't get in, etc.), you may submit a refund request.
Requests must be received within one week of the drop or not getting in, and in a reasonable timeframe from the class' start -- refunds are not granted near a term's end or after, regardless of how much/little activity was completed.
If you forgot to request, don't worry -- if you take the same class later, you can request a credit.
We can't refund purchases made through bookstores; check with your bookstore.
If your purchase enabled a discount on another zyBook, any refund will be partial, to account for such discount.
Independent learner zyBooks are non-refundable and don't have a trial period. But Chapter 1 is free, to help a learner decide before purchasing.
Additional restrictions may apply.
To request a refund, go to the "My subscription" panel in your zyBook and click the "Request a refund" button. If the button does not appear, that is usually due to being too late to request a refund. Feel free to email support@zybooks.com to check.
We are quick about processing refunds -- usually 1 or 2 business days. But your credit card bank may take an additional 5-10 business days to process the refund -- we can't control that. Also, note that your bank may do the refund as a reversal, where the original payment drops off your statement instead of a credit appearing.
And a reminder: Using the credit card dispute process to try to get a refund, by falsely claiming the charge was unauthorized or the product was not received -- well that's not OK. Not only does it increase our costs due to having to provide evidence that the charge was indeed authorized by the user (and we usually win those disputes), but making such a false claim is a form of fraud, with potential consequences.
Discounts for same content
Same content in a second class
Students using a same-content zyBook in a second class, either in the same term or a later term, may automatically receive a discount of up to 50% off. Add-ons such as zyLabs may add to the after-discount price. All these conditions must be met:
1. The second zyBook must cover the same content as the first zyBook. Ex: If you subscribed to a Python zyBook for CS 1 and then subscribe to a second Python zyBook for CS 2, the discount would apply. But a second class using a Discrete Math zyBook would not.
2. The second zyBook must be purchased within one year of the end date of the first zyBook.
3. The first and second zyBooks must both be directly paid for at zybooks.com. We can't offer discounts to students who purchase access keys at bookstores.
There is no need to contact us -- discounts appear automatically when you open the subscribe page on the second zyBook. For example: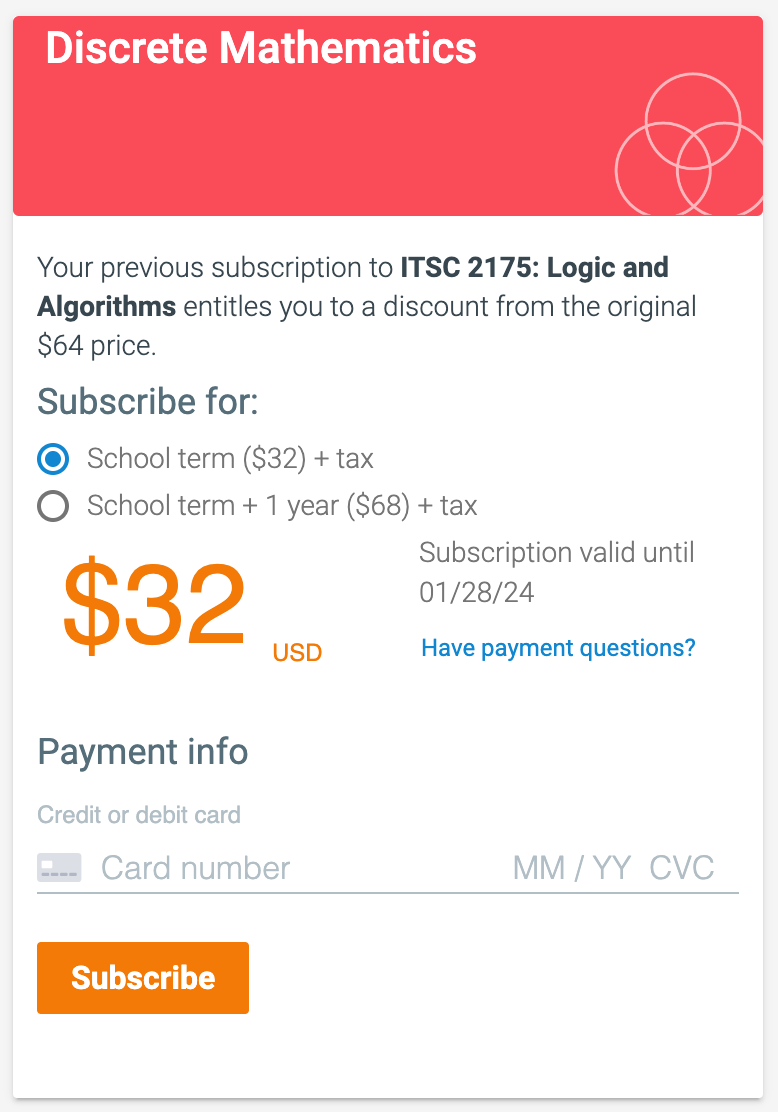 Instructors: If teaching a two-course sequence and wondering about one price to cover both, note that the above approach is already designed for that purpose. The approach elegantly handles: (1) the inevitable cases of some students not taking the second course or enrolling straight into the second course, (2) retakes, and (3) changing either course's zyBook configuration or content.
Retakes
If you are retaking a class, due perhaps to a low or failing grade or a drop and the following are conditions are true:
the retaken class uses the same zyBook content
the class is at the same school
the class has the course number is the same
you were not refunded by us (due to a drop/withdraw/etc)
you are the same person retaking the class
we may offer a free subscription for that retake. If the retake uses zyLabs or additional content, the discount may be partial. To request a free retake, email support@zybooks.com; the free retake is not automatic because a staff member must ensure the above requirements are met. Include your new zyBook code; we need that to consider the request.
Note: We will not transfer activity data between class zyBooks for retakes.
Note: The low-cost extension option (typically $36) is not for retakes, as each class term gets a unique zyBook code, separate activity that instructors can see, possibly different configuration, etc.
Transferring subscriptions
It is not uncommon for students to switch classes to another instructor in the beginning of the term. If you subscribed to a zyBook taught by one instructor and need to be moved to a zyBook taught by a different instructor, email support@zybooks.com and let them know either the zyBook code for the zyBook you need to be transferred to or the name and email address of the new instructor.