To download a report for the assignments you created, start by navigating to the "Assignments" tab.

Note, to use this feature, your zyBook must have at least one assignment. If you are unfamiliar with our assignments feature, you may wish to read our article on how to create an assignment first.
Next, click the "Report" button at the top of the right side panel.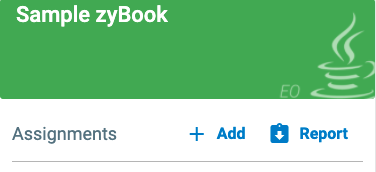 There are two types of reports that can be downloaded.
A summary report
An individual assignment report
Each score cell indicates the amount of work that was completed on a given assignment or section in an assignment by the student by the student's given due date.
If an assignment contains multiple due dates, the report can distinguish which students have which due dates and provide scores accordingly.
Summary report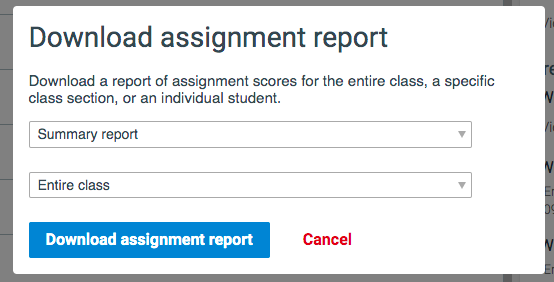 The Summary report includes student scores for each assignment in the zyBook as a percentage.

Individual assignment report
The detailed report has columns with student info, name/email/class section/etc followed by 5 total columns
overall assignment score as a percentage
overall assignment score as points
participation percentage
challenge percentage
lab percentage
a column for each section included in the assignment.