In zyBooks, an "Assignment" allows you to group activities and set due dates in advance for your students.
NOTE: You can use zyBooks without setting up assignments. Instead, just announce when things are due and run reports after the due date to generate .csv files that can be uploaded to your gradebook (in any LMS). We recommend instructors start with the reports approach (and many instructors are happy with and stay with that approach). However, if you plan to integrate your zyBook with an LMS, assignments are necessary for automatic grade passback.
Creating an assignment
To get started, go to the "Assignments" tab of your zyBook and click the "+ Add" button at the top.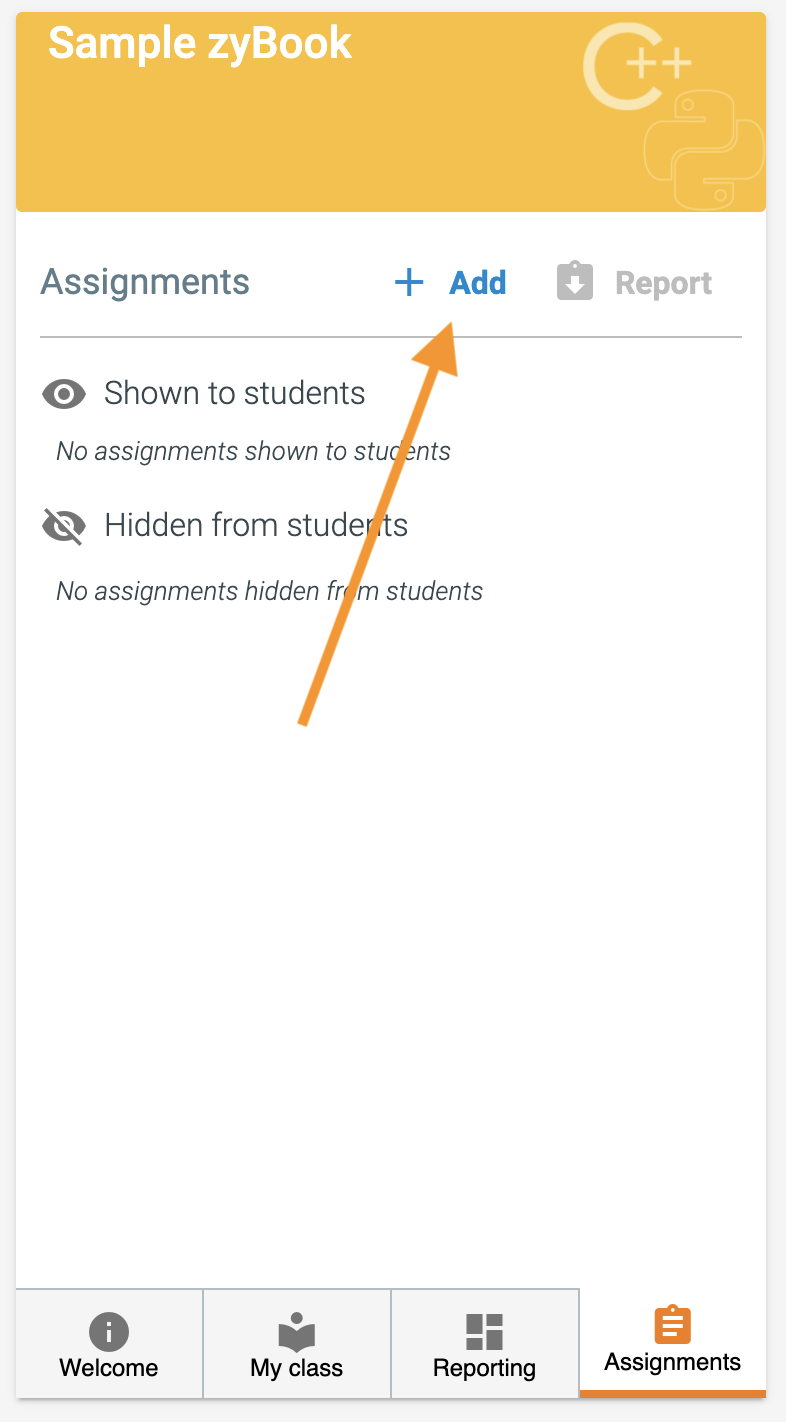 On the right, pick a name for your assignment under step 1.
On the left, use the check boxes to select the sections that should be included in the assignment.

When you are selecting sections of the zyBook, you might be given the option to choose all activities, participation activities only, or challenge activities only. We generally recommend assigning all participation activities before class and all challenge activities after.
Setting due dates for an assignment
Once you have decided which activities you want to include, you can select a due date. Here you have the option to select a due date for an entire class or set different due dates for different class sections.
If you have more than one class section and you want the class sections to have different due dates, click the "+ Add due date/extension" button.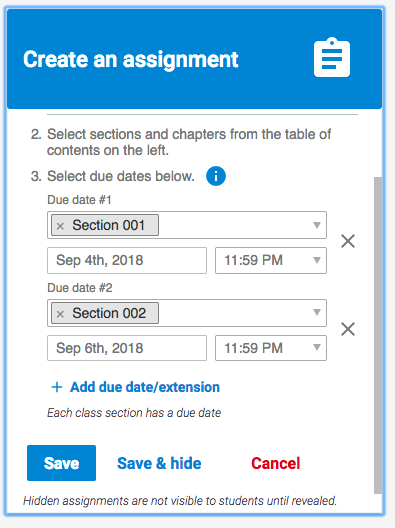 You can also add multiple students to the same due date.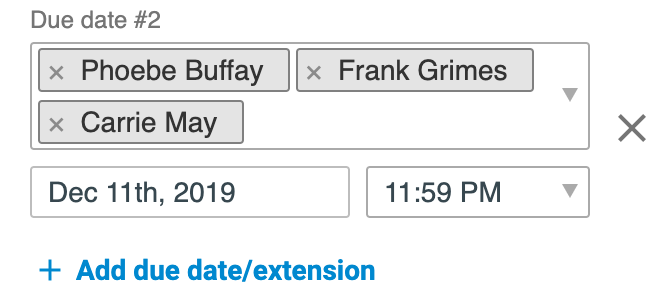 When you are finished creating your assignment, you can either click "Save" or "Save & hide".
If you choose to hide your assignment at this time, you can always reveal the assignment later. Please note that hidding an assignment does not hide the sections included within the assignemnt.
Editing an existing assignment
To edit an existing assignment, find the assignment in the assignment list and click the blue edit button.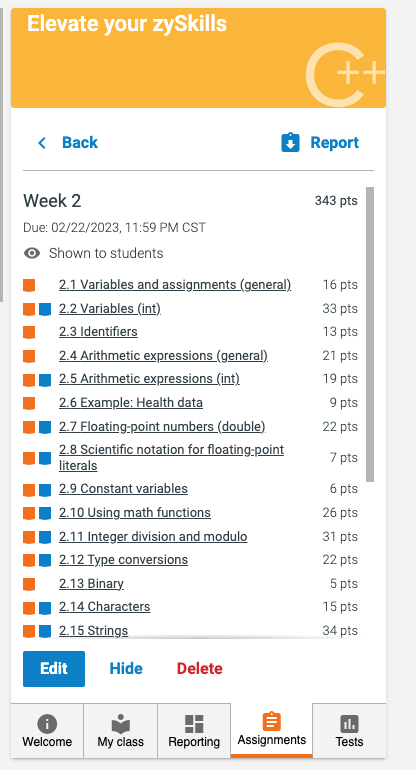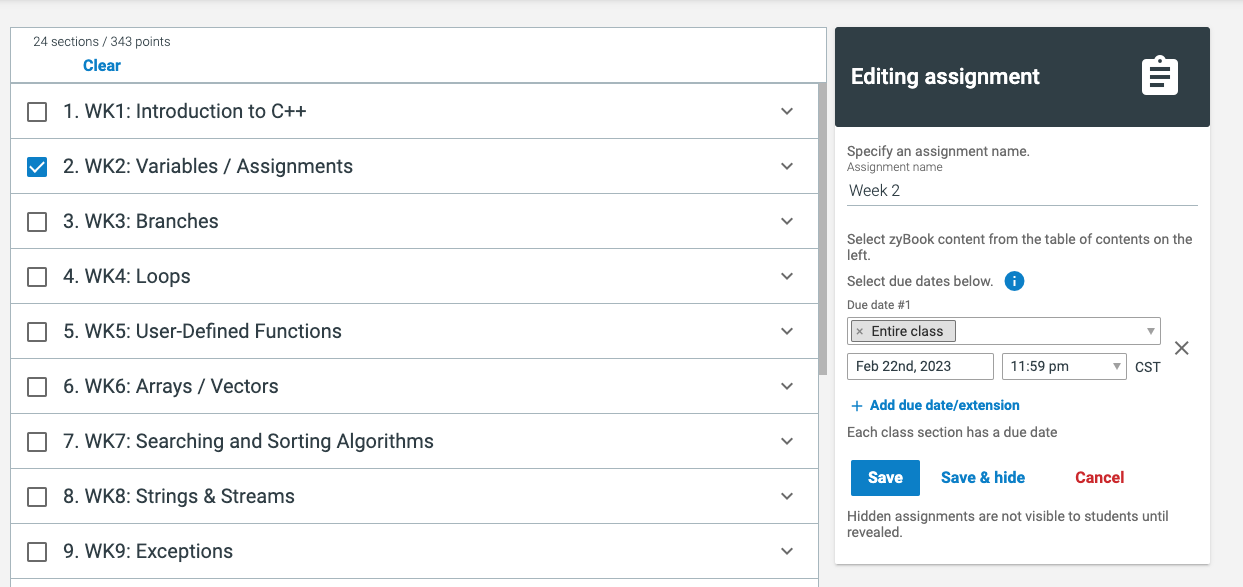 From the edit experience, you can
Modify the due date(s)
Add an extension for a student or group of students
Use the checkboxes and radio buttons on the left to add/remove assigned sections from the assignment
Modify the title of the assignment
Adding extensions
Note: When setting multiple due dates, please ensure the due dates are ordered from earliest to latest.
To add an extension, click the "+ Add due date/extension" button.

The select the student or students you would like to add the extension for and select a due date.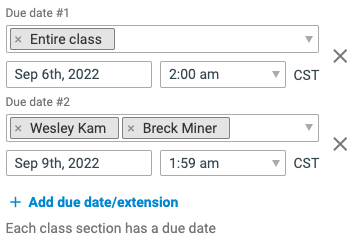 Note: If you'd like to extend the due date of an assignment for the entire class you should edit the existing date instead of adding an additional due date.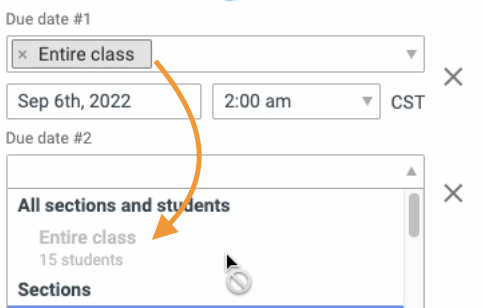 Notice that for the second due date, previously selected groups/students cannot be reselected.
If you've previously given a group of students an extension, and now want to extend the due date again for one of those students, you will have to remove them from the list of the original extension and set a new due date for that individual student.
For example, in order to give Sheldon another extension, he needs to be removed from Due date #2 in order to be given a different due date.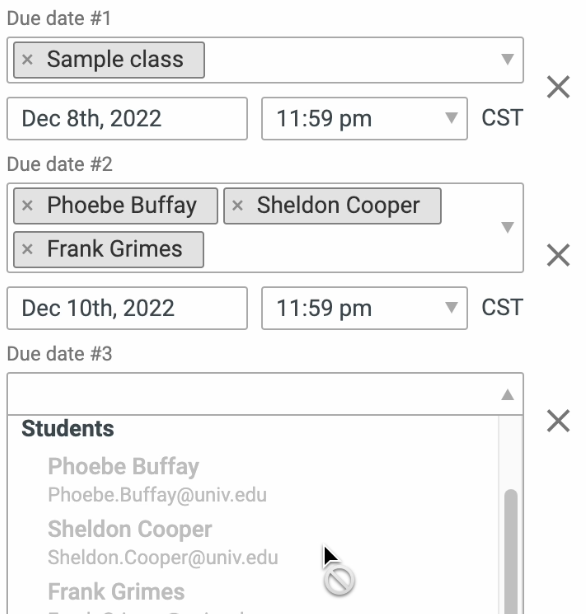 Note that when adding extensions, students will only see the extended due date that is most relevant to them.
For example, if there is an entire class due date, all students will see that date. If there is zyBook with 003 sections, and class section 001's assignment is due Monday, class section 002' is due Tuesday and class section 003 does not have a due date set, students in class section 001 will only see the Monday due date, students in class section 002 will only see the Tuesday due date, and students in class section 003 will not see the assignment at all. If an individual student is given an extension, they will see the extended due date while the rest of the class will see the due date for their section.
This student facing article explains how assignments are scored. You may share that article with your students.