When should I use this feature?
Sometimes student grades are not sent to the LMS or students are redirected to the wrong assignment from the LMS. In these cases, it's hard to figure out the issue on your own since you're not able to see how things are linked between the LMS and zyBooks. This tool will provide you with a clear view of the links you've created, you'll be able to easily identify any links that were set up incorrectly and edit them without having to reach out to support.
Viewing LMS assignment links
To view and manage a list of all assignment links that have been created in a zyBook, click the "Manage LMS links" at the top of the "Assignments" tab.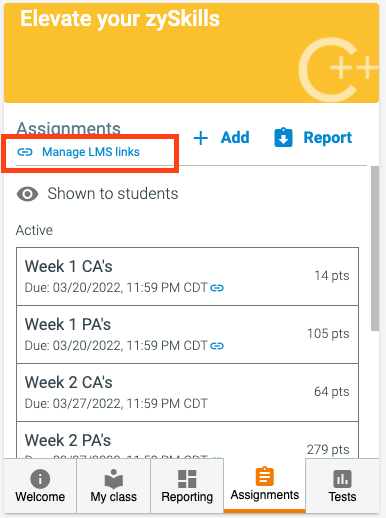 This dashboard will display the LMS resource title, LMS course, whether the students have started working on the assignment, and the title of the zyBook assignment.

From here you are able to edit or delete existing LMS links. Please note that the creation process is still the same and you will have to go through your LMS to set up the links.
How to edit a link
Please note that you can only edit an assignment link as long as students have not started working on the assignment.
If the link was misconfigured, but students have started working, you will need to delete the link and reconfigure the link from within the LMS. To learn how to configure links, please refer to step 2 of the help article How to link a zyBook assignment/section/TOC to an LMS.

To edit the link, hover over the assignment and click the pencil icon on the right.

When the edit button has been clicked, a list of assignments will appear. Selecting an assignment from the drop-down menu will set that assignment as the one associated with the LMS link.


How to delete a link
To delete an LMS link, hover over the link and click the trash icon on the right.

When deleting an LMS link that points to an assignment students have started, a warning will appear.

It's safe to click "Yes, remove the link" if the LMS link is a duplicate, the link is no longer needed or the link needs to be reconfigured. Once the link is deleted, it's no longer configured in the LMS. To learn about configuring an LMS link, please see our help article: How to link a zyBook assignment/section/TOC to an LMS.
Once the link is removed, students who try to use the link will receive an error message until the link is reconfigured.

Other features
Sorting
You are able to sort your view of the LMS links by clicking on any of the column titles.