Unlike traditional textbooks, instructors can reconfigure the sections in their zyBook to match their syllabus! A zyBook can be configured at any time, even after students have started subscribing and working. That being said, we generally recommend finalizing configurations before students subscribe to avoid causing confusion.
To get started, click the blue "Configure zyBook" button in your zyBook.

This will take you into the "Configure your zyBook" experience:
Chapters are grouping of sections. Clicking a chapter's right side arrow expands the chapter to show its sections.
Click on a chapter's name to rename it. (Tip: A popular approach configures the zyBook so each chapter is a class week).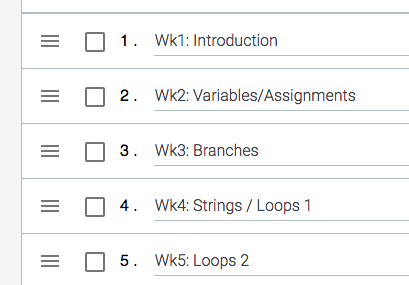 Moving sections
Clicking and holding the gripper tool on the section's left side allows dragging and moving the section. Sections will automatically be re-numbered to fit their new location. Sections can be moved within a chapter, to a different chapter, or to the Unused "chapter" at the bottom.
Moving can instead be achieved by selecting sections, and then using the "Move selected sections to" button on the far right, where you'll select a destination chapter:

You can also move entire chapters. Clicking and holding the three bars (gripper tool) on the chapter's left side allows dragging a chapter to another location.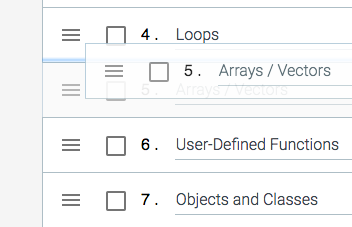 Sections you won't be covering
For sections instructors won't be covering but want students to be able to see, some instructors create an "Additional Material" chapter and move those sections there.
Sections you'd like students to see but want to make clear are not expected as part of your course can be kept in regular chapters but marked as Optional. Such sections get the label "Optional". Students can read optional sections and do their activities, but that activity is not reflected in the activity dashboard, and those sections cannot be included in activity reports or assignments.

For example, this student did 100% of the non-optional sections so they see 100% completion for chapter 5 even though they did no work in sections 5.3 or 5.4 which are optional.



To mark sections as optional, after using the checkboxes to select the sections, click "Set selected sections as optional" on the right.

For sections you won't be covering and don't think students will need/want to see at all, move those sections to Unused (akin to "trash", except it cannot be emptied). Sections in Unused are not visible to students at all, only to instructors.


Some instructors ask for hierarchy in Unused, but because moving to Unused is like moving to trash, we keep Unused as a simple list.
Instructors can later move items back from Unused to normal chapters, but such movement is expected to be rare, like restoring an item from trash. The Unused chapter is not intended to support "unveiling" sections to students during a term; a zyBook is a textbook replacement, so students expect the option to read ahead.
To mark sections as unused, after using the checkboxes to select the sections, click "Mark as unused content" on the right.

Adding a new chapter
Clicking the "Add new chapter" button will create an empty chapter that you can rename and move a section into.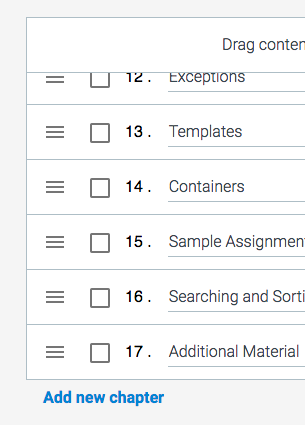 And finally...
When you're all finished hit "Save"

Tip: We recommend saving frequently to avoid frustration if something unusual should happen such as your computer shutting down or losing internet connection.
Note: Like jumping around in a regular textbook, the instructor should take care to not violate topic dependencies. zyBook authors strive to reduce unnecessary dependencies, but obviously dependencies do exist.